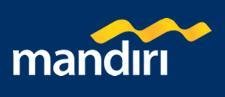 Job Vacancy in the Big National Banking in Indonesia PT Bank Mandiri Persero Tbk, with have mission : INDONESIA MOST ADMIRED AND PROGRESSIVE FINANCIAL INSTITUTION , opening jobs opportunity for talented banking professionals to share its passion for excellence in its new business direction as

RELATIONSHIP MANAGER / ACCOUNT OFFICER COMMERCIAL & BUSINESS BANKING
Qualification & Experience:
Have 4 years experience in banking
Have 2 years experience as RM /AO with level Offiver, Staaf Pimpinan Kredit Retail, / Small Medium
Hold in Product Retail Kredit and Trade Finance.
Male/ Female age max 35 years old
Bachelor Degree S1 in Law, Economic, Finance, Engineering from PTN/PTS
Proactive, hardworking and able to work in a dynamic workplace and able to work in a team.
Have excellent interpersonal skill, energetic, mature, Honest, Discipline & dynamic
Hard worker with good interpersonal skills and integrity
If you love challenges and look forward to enriching professional and experience, kindly submit your complete resume with latest photograph to :  anton.eka.saputra@bankmandiri.co.id  or mdr_hrd@yahoo.com  or contact center : 021 524 5982 . deadline 12 November 2011.